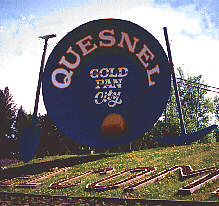 We're back in British Columbia this week for another destination -
Quesnel
(pronounced kweh-NEL). It's a very historic town in that it is named for Jules Maurice Quesnel who accompanied Simon Fraser on his journey to the Pacific Ocean. Quesnel is located along the Cariboo Wagon Road and was the commercial center for the Cariboo Gold Rush, which began in 1859. Also, because of its location on the Fraser River, it was an important landing for sternwheelers between 1862 and 1886 and again from 1909 to 1921. The town is pretty much in the middle of our ranch and cowboy country.
Currently, one of its most important festivals is during the third week of July when the town celebrates its heritage and the first gold miner, William Barker who struck it rich just east of Quesnel where we now have the historical town of
Barkerville
. Billy Barker hailed from Cambridgeshire, England, and struck gold in 1861 sparking rapid growth in the area because of so many men arriving to find their own fortune.
My one and only visit to Quesnel and Barkerville was when I was about 19 years old, home from my second year of university (my parents had moved 500 miles north of Vancouver to reside in Prince George, a few miles north of Quesnel). It was lots of fun exploring the old town with its saloon, schoolhouse, church, "Wake-up Jake's Restaurant," the theater, and the general store that was run by the Chinese, a very important part of the building of the town. I also panned for gold, but was unsuccessful. Below are a couple of old photos of me (in the pink top) and my sister and mother back in 1968 and below them are old file photos of Barkerville in 1865 and in 2004.
One more thing - all students in British Columbia learn the history of the Gold Rush and all about Billy Barker and his henchmen. Quesnel and its environs (i.e. Barkerville) are a major tourist attraction not only for BCers, but also for all Canadians and Americans alike.
ABC Wednesday is the brainchild of Mrs. Nesbitt and because it has become so popular around the world, she now has a group of quintessential aides! Check us out
here
!