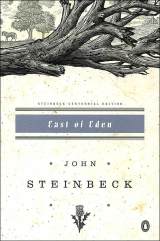 From the inside cover of John Steinbeck's East of Eden: Set in the rich farmland of California's Salinas Valley, this sprawling and often brutal novel follows the intertwined destinies of two families whose generations helplessly reenact the fall of Adam and Eve and the poisonous rivalry of Cain and Abel...First published in 1952, it is the work in which Steinbeck created the most mesmerizing characters and explored his most enduring themes: the mystery of identity, the inexplicability of love, and the murderous consequences of love's absence...
John Steinbeck wrote this book in his later years and it's full of energy and passion. The first few pages will grab you and you will be hooked until the bitter end. Don't watch the old movie - read the book!
I
've read many of Steinbeck's novels, including Of Mice and Men, The Winter of Our Discontent, The Red Pony, The Grapes of Wrath, but my favourite is this one. Late hubby would have disagreed as his all-time favourite was The Grapes of Wrath. I've wanted to read more of his California novels ever since seeing Steinbeck's statue at Monterey, California, and teaching some of his books and stories to former students.