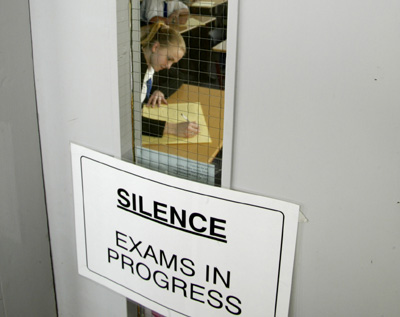 I've been on both sides of exams in my lifetime. I've been a student and had to write them in classrooms and gymnasiums while teachers sauntered up and down the aisles watching for cheaters. I've actually been one of those teachers who had to walk up and down those aisles, eagle eyes on the lookout for anyone cheating and giving permission - or not - to those saying they needed to use the toilet. I've written exams that others have written and I've written exams for others to write. I've marked exams and given out grades according to government criteria or my own expectations, depending on the grade level.
It's now exam time for all school-age children. I have one more student tomorrow and again Monday morning and then all my current tutoring students will be off for the summer. I don't think I'll ever stop thinking like a teacher and I love working with kids one-on-one. It is invigorating and exhilarating, keeping my brain active so that I can use my skills without having to worry about crowd control or discipline issues.

I have one student lined up for the month of July and the end of August to prepare her for high school. She's a really nice young girl who was in my 4th grade class and she's now a bit anxious about going to high school. I'm really looking forward to having her for 2 hours, once a week through the summer to work on grammar and writing skills.
I've really enjoyed working with these kids one-on-one this year and hope I'll be able to increase my student load next year. Sometimes it takes a while for your name to get around, but I have a friend in a nearby village who tutors, too, so she recommends me for English and French while I recommend her for Math and Sciences. Also, another friend still works at the school where I used to teach and she always recommends me to parents.
I've updated and reprinted my business cards and took some to the school today. Also, when the mother of the boy I was tutoring today arrived to pick him up, I gave her a few. She was very happy about that because she said she'd been telling people about me. Wow! Maybe I'll get some new students through her! That would be great!
In the meantime, I wish all my students the best of luck on their exams and I hope they'll have a fun-filled summer vacation.