Back in prehistoric days when I was in my twenties, I went out to dinner at one of the most famous Japanese restaurants in downtown Vancouver. You know, one of those places where the chefs prepare the meal right in front of you while swinging their knives around and flames shoot out from under the sizzling food. Well, my dinner was so awful that it turned me off Japanese food and I never had it again until, well, about a year ago.
Last year, my friend Suzanne (from Arizona) and I met in Los Angeles for a week-long winter escape. After a few days there with other friends, we drove to Stallion Springs, a little place just east of Bakersfield, to stay with her Mom for about 4 days. The nearest town is Tehachapi and the three of us went out for dinner one evening as a thank-you to her Mom for having us. They love Japanese food so I went along, expecting the worst. But...lo and behold, it was actually quite tasty. Ironic that I had a good Japanese meal in a California town with a Mexican name!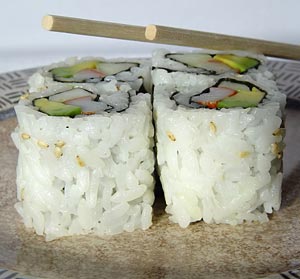 Anyway....my daughter loves sushi and she's always wanting me to go with her. But, I've told her I won't eat raw fish so forget it. But one evening about two weeks ago, we were passing a little hole-in-the-wall cafe in my village and she said, "Let's go get sushi." I said I'd just sit with her and have some tea but wouldn't have any. Well, needless to say, she talked me into it and again I found that it was quite good. She ordered "maki" which is what most people know as the rolls...you know, like California rolls or other such with different foods inside. Daughter didn't tell me that the salmon was raw in the ones I ate until they were all gone!
So tonight we decided to go out for Japanese food again and I would try something different. We each had what was called a "Happy Dinner Box." Included was miso soup, chicken teriyaki on rice, 6 California rolls, prawn and vegetable tempura, and 2 little spring rolls. Well, I enjoyed it but couldn't finish it all. I wasn't fussy about the miso soup and the chicken wasn't the best quality but I did like the teriyaki sauce. I only ate about half the dinner and brought the rest home to have tomorrow.
Daughter ordered 2 Nigiri tuna (raw tuna) tonight, too! She gave me a piece and insisted I try it. I thought I wouldn't be able to get it down or I'd throw it all back up...but it was just sort of tasteless to me. So, if I were hungry enough (like I found myself on a deserted island with nothing to eat but the fish I caught with my bare hands) I'd be able to survive. Other than that scenario, I think it'd be a waste of money.

I think I wasted a lot of years thinking I didn't like Japanese food. It must have been a fluke that the dinner I had back then turned out to be so bad. I think the meat must have been "off" because everything I've had since then has been very tasty.

So who likes sushi? tempura? teriyaki?