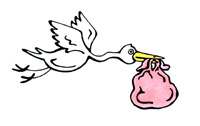 Things are really looking up.
Daughter #2 is doing much much better and will probably be able to return to work in about 2 or 3 weeks. She actually went out tonight with a friend to see U2 in 3D at the Imax Theatre downtown.
Daughter #1 went for her 2nd ultrasound today to check on baby's progress and it's been confirmed that it's a girl. I am SO excited - for them and for me - as I know how blessed I have been to have daughters. It's the first time since my parent's generation that there will be a boy and a girl in the same family. My sister had 2 boys and I had 2 girls. Only about 6 weeks to wait now.
I think Josie and I just might go shopping along 4th Avenue before lifting a glass of wine at that cute little Italian bistro where we're dining tomorrow.