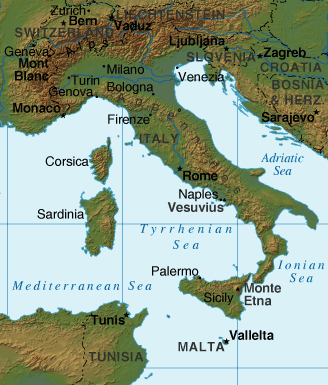 ABC Wednesday is up to the letter
S
this week so I'd like to take you on a tour to some of the places I visited when in
Sicily/Sicilia .
The second week of November, 2006, we took the overnight ferry from Naples to Palermo, the capital city of Sicily. From there we drove west to the town of Erice, which is at the top of a mountain above Trapani on the west coast of Sicily.

By the time we arrived, I was sick as a dog and went right to my room and had delusional dreams until the next morning. Thankfully, the ladies I was traveling with and our guide agreed to stay over another day so that I could rest. While I was sleeping the second day, they took a day trip to Trapani where they viewed the salt-pans, a magnificent sight amidst all the fishing boats. On the morning of the third day, I was well enough to travel (although still sick) and I managed to take a few photos as we were leaving. Below is Trapani from Erice.
I'm disappointed I was too sick to appreciate Erice, because at 2,500 feet up, it's an intriguing medieval town of churches and forts, of silent cobbled lanes and miniature piazzas. I took this photo as we were driving down the mountain from Erice and the Mediterranean Sea was spectacular in its brilliance. And it is said that on a clear day, you can see Cape Bon in Tunisia.
to reach
Segesta
where we viewed ancient Greek temples. Sicily has a rich Greek history because it was always considered a crucial strategic location due to its importance for Mediterranean trade routes. At one time it was considered to be part of Greece. We had to take a bus to the top of this mountain to view the amphitheater and other ruins above this temple. I took the shot from the window of the bus as we were returning to the car park.
I also took this shot from the top of the mountain that overlooked the countryside of Sicily near Segesta. It was paradoxical to see a modern highway snaking its way through old farms and ancient hills.
From Segesta, we travelled south to
Selinunte
on the south coast of Sicily. Another ancient Greek site, it contains five temples centered on an acropolis, which literally means "high city." This is one of my favourite shots because I took it as we were approaching the area and this temple stood out from behind bushes that looked like sagebrush. Actually, this part of Sicily is considered to be the "wild west" of the area.
We weren't leaving until around noon the next day, so as the first pill had done its duty and I was feeling much better, albeit still a bit weak, I went off on my own to explore the city. The following photo is of the harbour in old Siracusa. It was a lovely day, just warm enough to not need a jacket but not too warm for me to work up another fever. I really would love to go back some day and see more of that city. I think the rest of the group got to go on a boat ride or something like that. Boo Hoo!
I could show you all sorts of photos, but you'll just have to come over and see the album. But I do want to show you a typical scene along any Sicilian street.
If you're interested in Sicilian recipes, just go over to
Welshcakes Limoncello's site
. She is an ex-pat from the United Kingdom, currently residing in Modica, and experiments with the local fare. She shares recipes and photos of lots of Sicilian meals along with her point of view of Sicilian life.
Our week in Sicily ended early in the morning November 14, 2006, after driving back to Palermo where we caught another overnight ferry. We arrived back in Naples just in time to see the sun rise.
To view more ABC Wednesday participants' photos, click on Mrs. Nesbitt's place here.